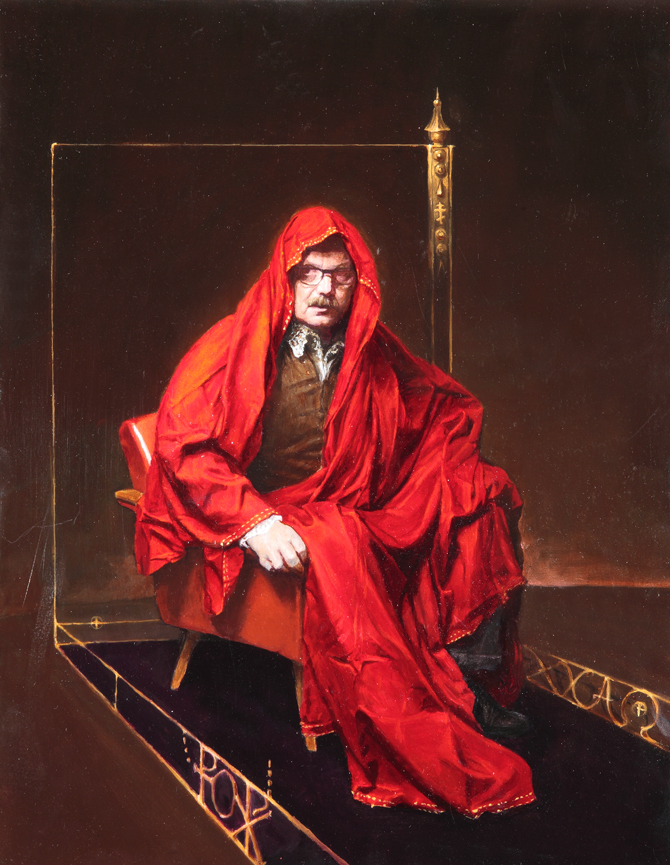 Ville Löppönen (*1980)
Finland
Portrait of Henry Wuorila-Stenberg
Oil on board
35 x 28 cm
2012
Private collection
BREWER J.C. JACOBSEN'S PORTRAIT AWARD
3nd. PRIZE: VILLE LOPPONEN
The jury awards the 3nd prize to the Finnish artist Ville Lopponen with the following citation:
The Nordic Portrait Prize is judged anonymously – but even if it weren't, both the painter of this portrait and its subject are unfamiliar to me. This jewel of a painting, the third prize-winner, was not a portrait which the jury immediately noticed or commented upon amongst the 700 or so portraits we surveyed in the imposing surroundings at Fredreicksborg. Modest in scale, 'Portrait of Henry Wuorila-Stenberg' could have easily been overlooked amongst some of its louder, brasher neighbours. However, once my gaze fell upon it, the painting's quiet intensity drew me in and I was intrigued.
While the title 'Portrait of Henry Wuorila-Stenberg' suggests a conventional portrait of a pillar of society, what we have here is an enigmatic narrative painting. (I have since discovered that Henry Wuorila-Stenberg is an artist who is represented by the same gallery as Ville Lopponnen but I didn't know this at the time). Although the painting shares some characteristics with the contemporary boardroom portrait – the subject's business-like heavy rimmed spectacles and the red leather armchair, this is as far as it goes. This subject is dressed up in papal costume – he wears a delicate lace collar and cuffs and is swathed in a red plush cloak, embroidered with gold thread. The chair or throne sits on a papal platform with the word 'pox' worked into the dais. With echoes of a Francis Bacon painting the figure sits on a sketched out stage. The artist it turns out is Finnish and the stylistic approach is certainly Northern European – the artist's attention to detail calls to mind Van Eyck, particularly in the finely painted folds of the robes and the filigree work. This is a mysterious painting of a contemporary artist dressing up as a brooding Gothic religious figure which continues to haunt me after I leave Fredericksborg. I'm looking forward to seeing it on the castle walls again, a setting which somehow seems quite appropriate, and perhaps meeting the two artists who constructed it.
Curator Sarah Howgate, National Portrait Gallery, London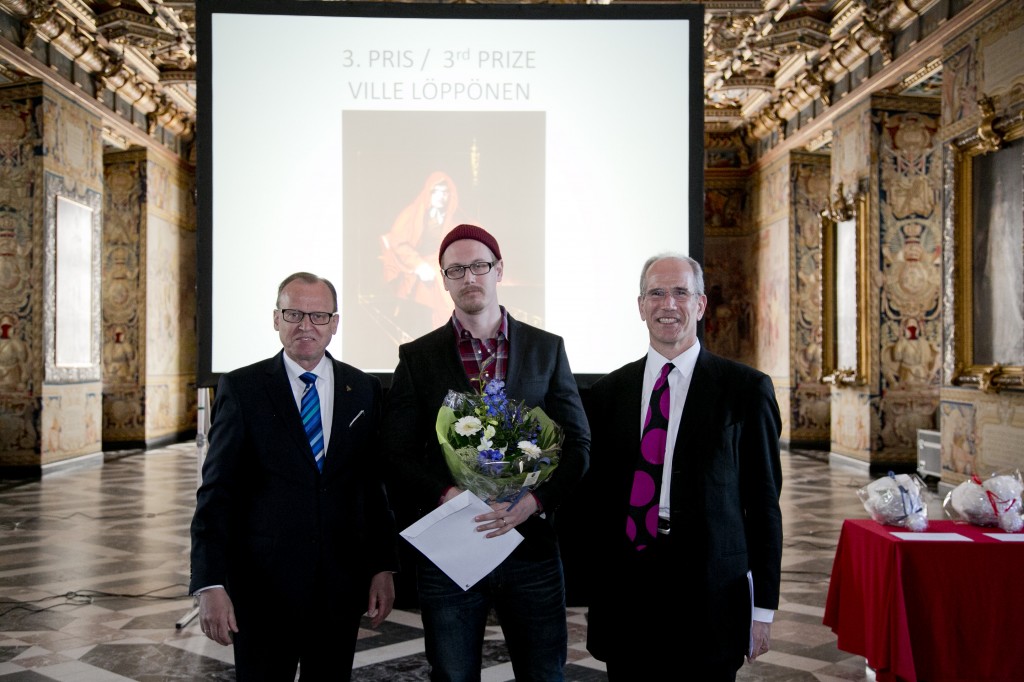 From left to right: Chairman of the Carlsberg Foundation Flemming Besenbacher, prize winner Ville Lopponen, and director Sandy Nairne, National Portrait Gallery, London. The Great Hall, Frederiksborg Castle, May 2013.