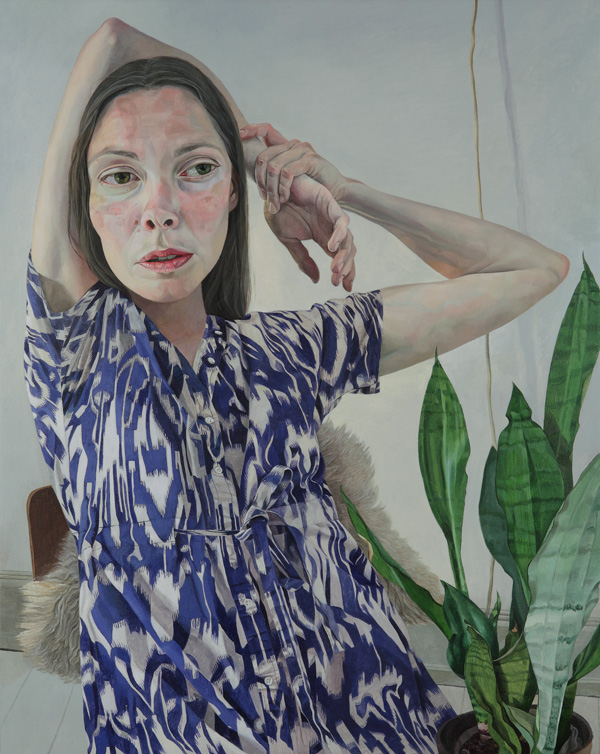 James Hague (* 1970)
Denmark
Iben
Oil on canvas
120 x 100 cm
2012
Collection of the artist
THE JURY'S MOTIVATION:
A good portrait should uncover two people. It should reveal the subject – in this case, the woman in the picture. But it should also reveal so much personality in the portrayal of this person that it illuminates the artist. Can we speak of such a 'double portrait' in the case of James Hague's portrait of 'Iben'? Yes – and we can do more than that.
It is for the presence of these qualities, and for several other reasons, that this portrait has won Brewer J.C. Jacobsen's Portrait Prize 2013.
The painting doesn't hide much from us. The woman, whose name is 'Iben', sits on an office chair close to a wall, whose skirting panel borders a floor made of painted floorboards. This defines the space behind her. Her position dictates the extents of the picture, in both height and width. The point of one of her elbows nearly touches the upper edge of the painting – while the other is just a few centimetres from its right-hand edge. The surroundings are relaxed. In front of the subject sits a pot plant, and behind her hangs a length of wire cabling. She has put her arms behind her head, in a gesture which suggests that she isn't much interested in this collision between the organic and the technical. She is also just relaxing. She doesn't even look at the painter, looking at her as he paints her – and, with her, of the details which constitute her clothing and her presence, right down to the organic-geometric pattern of the small buttons on her blue-white dress.
Although we don't know who Iben is, we know who the painter is. His name is James Hague. He was born in Nottingham in 1970, and educated in Fine Art at Northumbria University in Newcastle from 1989 to 1993; and, ten years later, at the Royal College of Art. Today, he lives in Denmark periodically. He has previously taken part in Brewer J.C. Jacobsen's Portrait Prize. This year, he landed the award that he has no doubt deserved for a while.
In James Hague's winning portrait, everything seems to hang together: the pot plant's large, sharp blades, the shape of Iben's slender, almost gaunt face, and the angular shapes that her pale arms form against the background. Everything seems to be stretched out, pared down and accentuated into a stylistic harmony. What we see in the portrait tells us that a language is being spoken which betrays the artist's familiarity with – and possibly respect for – a tradition of modern English painting going back to the young Lucian Freud.
It is this tradition that James Hague is continuing and developing – as his submission here demonstrates. It's for this reason that we are calling this a winning portrait.
Peter Michael Hornung, art critic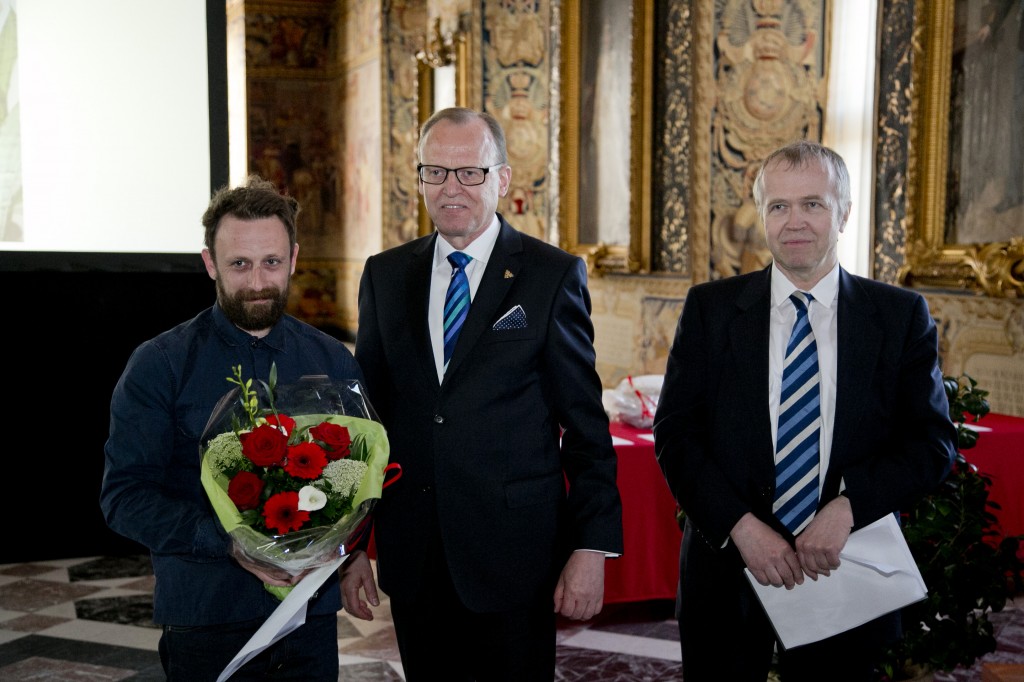 Left to right: prize winner James Hague with chairman of the Carlsberg Foundation, Flemming Besenbacher and art critic, Peter Michael Hornung in the Great Hall at Frederiksborg Castle, May 2013.